ALL-NEW 2024
CORVETTE E-RAY
Horsepower
655 combined HP †
Quarter-Mile
10.5 seconds †
One like none.
Over 70 years and eight generations, Corvette has been innovated upon time and time again. And now, it's been electrified for the first time with an e-AWD system that works in tandem with its LT2 V8 engine to give it the fastest 0 to 60 time ever for this legendary nameplate. But this latest Corvette isn't made simply for performance. With standard all-season tires and Magnetic Selective Ride Control,™ it's made for all-season touring too.
PERFORMANCE
Conquer the conditions.
Designed for year-round performance, E-Ray and its electrified AWD capability is always up for a challenge, whether it's snow, rain, mud or ice. But this sophisticated supercar wasn't created to take on Mother Nature alone. With technology inspired by the C8.R race car and Le Mans prototypes, plus standard carbon ceramic brakes, it's made to take on the greatest cars in the world.
The power within.
With the addition of an electric drive unit on the front axle, you can expect incredible acceleration as well as impressive horsepower and torque on both road and track.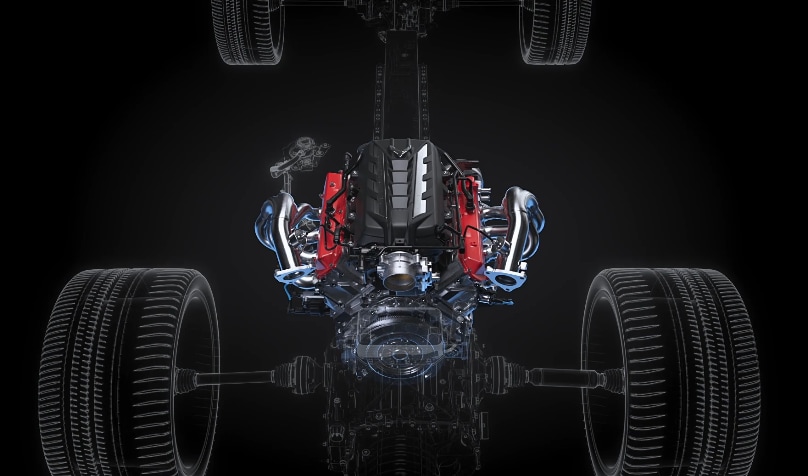 LT2 V8 ENGINE
With 495 horsepower and 470 lb.‑ft. of torque, this 6.2L small block powerhouse is designed to thrill on every drive, on both road and track, and contributes to an overall 655 horsepower.¹ It features eight equal‑length intake runners of 210 mm to maximize torque and airflow. A dry‑sump oil scavenge system uses three pumps to ensure oil quality and flow to critical areas during high g‑force cornering and acceleration.
¹ 495 horsepower from 6.2L LT2 V8 engine plus the 160 horsepower from the e‑AWD (electric drive unit).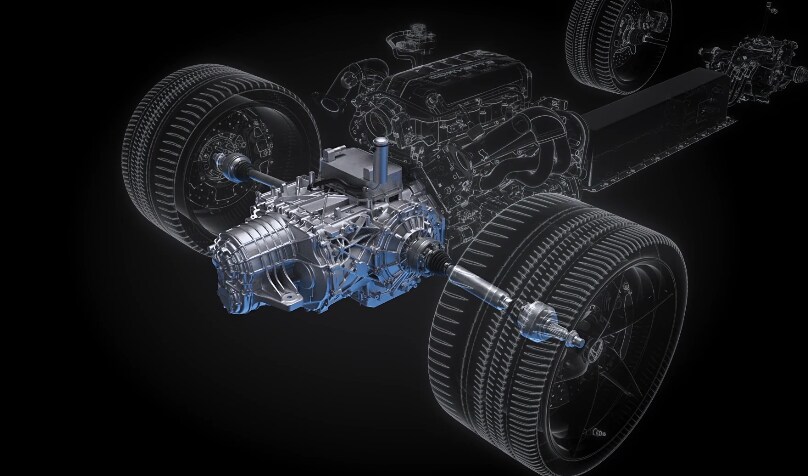 8‑SPEED TRANSMISSION
The standard 8‑speed dual‑clutch transmission combines the smoothness of an automatic with the control of a manual, giving you high efficiency, lightning‑quick shifts and shorter lap times. A variable Drive Style Index senses your driver inputs and responds with gear holds and downshifts exactly when you expect them.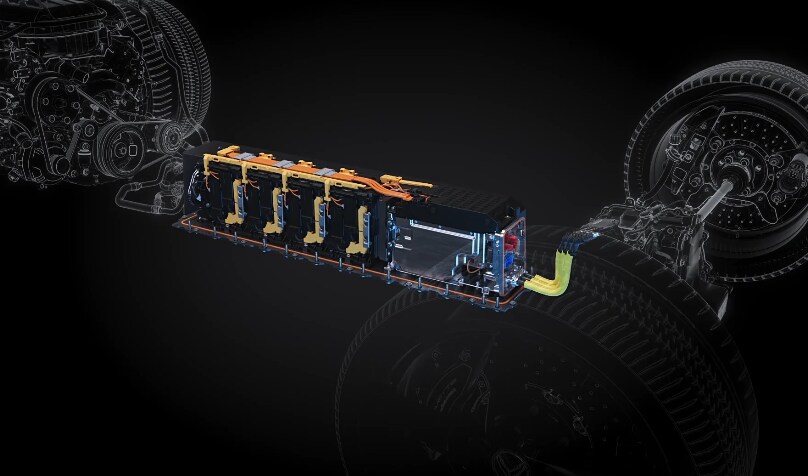 BATTERY
A 1.9 kWh lithium‑ion battery electrifies Corvette for the first time, powering the electric drive unit that powers the front wheels. The battery is self‑charging, picking up energy as you go, letting you focus on the drive. The E‑Ray battery system includes an integrated power electronics system designed for maximum responsiveness, efficiency and performance, all in support of a 0.5-second improvement in 0‑60 time.²
² Based on initial vehicle movement.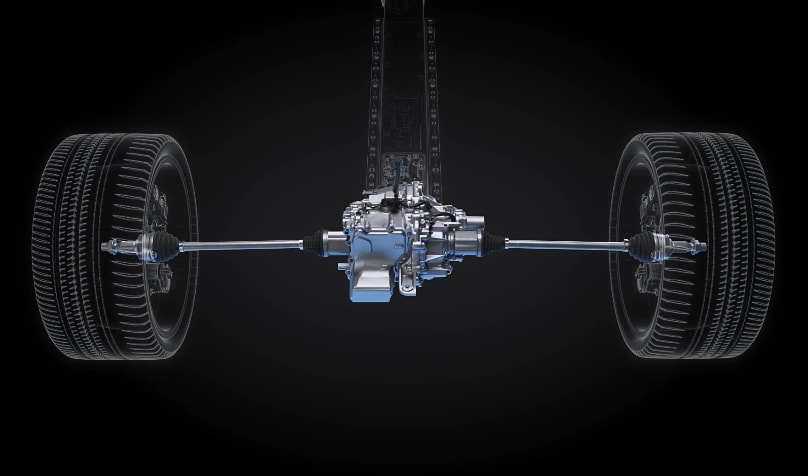 ELECTRIC DRIVE UNIT
With a rated output of 160 horsepower, the electrified motor powering the front axle along with the LT2 V8 engine provide an incredible 655 combined horsepower.¹ And, while the LT2 V8 engine provides 470 lb.‑ft. of torque to the rear wheels, the electric motor adds an additional 125 lb.-ft. of torque to the front wheels. The result is truly impressive acceleration, whether off the line, exiting corners or during passing maneuvers. In addition, the system offers limited EV‑only drive modes to allow you to move your car or exit your neighborhood in stealthy fashion.
¹ 495 horsepower from 6.2L LT2 V8 engine plus the 160 horsepower from the e‑AWD (electric drive unit).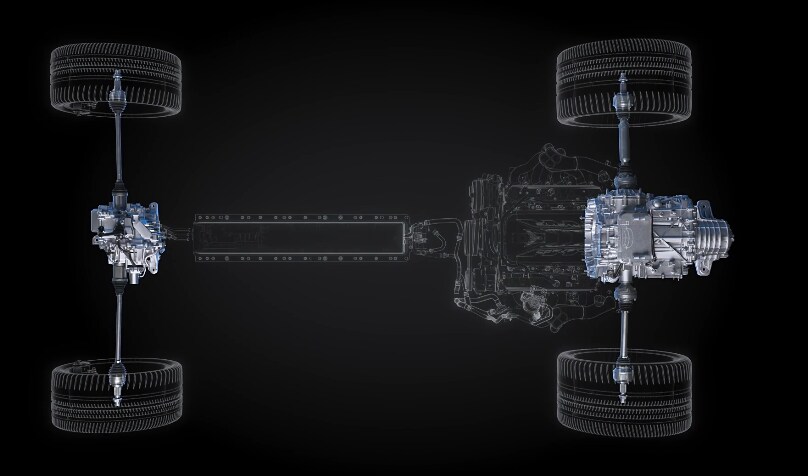 AWD
Elevating the mid‑engine platform with e‑AWD assist takes the E‑Ray to a whole new level. Not only does this bring a huge leap in 4‑season capability, the intelligent controls dynamically adjust in real time to provide front axle assist for ultimate stability and balance - providing nimble control.
DESIGN
The face of change.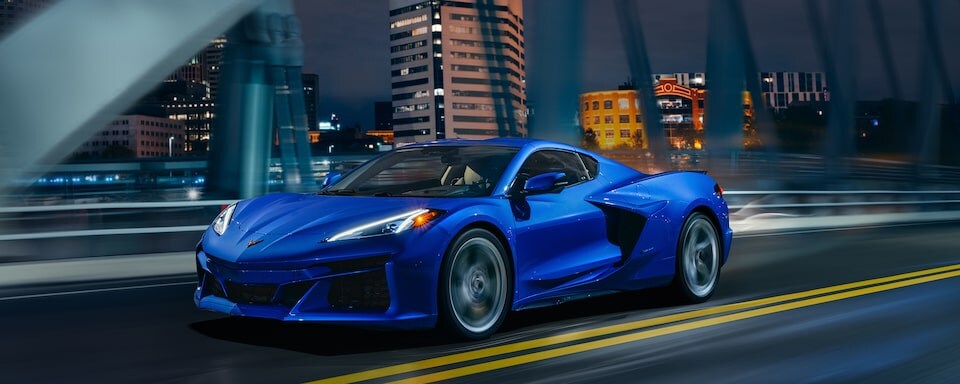 Exterior
E-Ray features a host of functional design elements, adding wider fenders, quarter panels and fascias. The result is a sleek, sculpted presence with a number of aerodynamic and performance benefits. Standard ground effects and spoiler contribute further to its aerodynamic prowess, while matching body-color accents provide a refined look.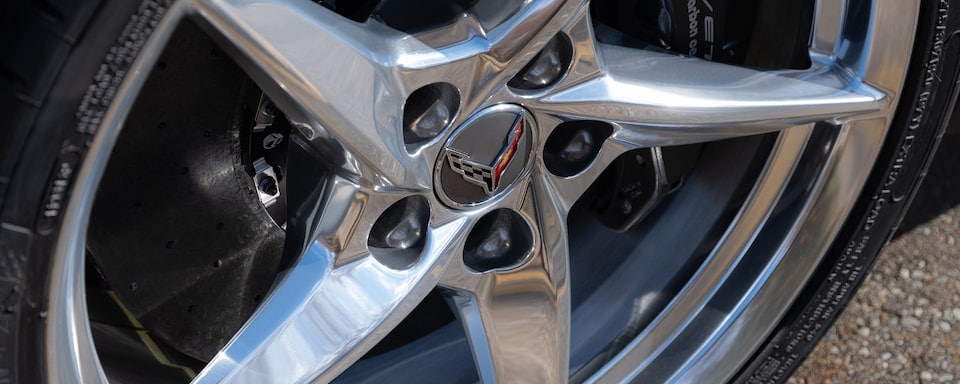 Wheels
Newly designed wider wheels with exclusive standard all-season tires give you a confident stance and sure-footed performance in a variety of conditions. Paired with standard carbon ceramic brakes, your stops are precise too.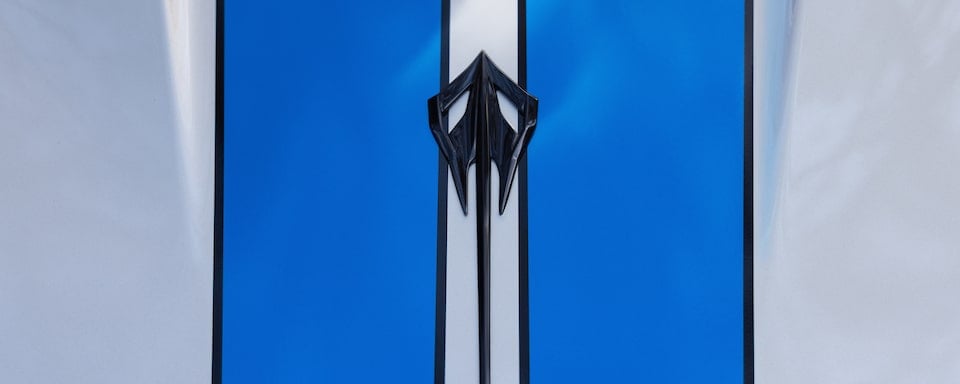 Badging Design
All-new unique E-Ray badging looks ahead toward the incredible future of Corvette.
TECHNOLOGY
Tech for the grandest of tours.
With a standard Head-Up Display, you can keep your eyes on the road ahead, or track ahead, because E-Ray can also be equipped with an available Performance Data Recorder that can help you become a better driver. And you'll be entertained on your longer drives with standard wireless Apple CarPlay®† and wireless Android Auto™† compatibility, as well as an available 14-speaker Bose Performance Series system.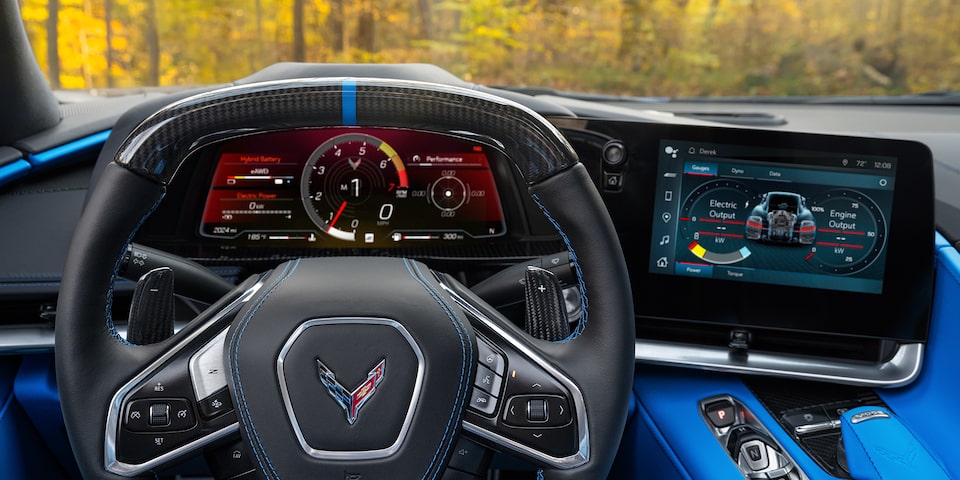 Your Corvette command center.
New driver information screens keep you in the know about the vehicle's battery power in addition to a host of performance parameters. The all-new E-Ray App, conveniently located on the center screen, gives you a quick look at even more performance data, RWD vs. FWD power and vehicle information. 
Contact Us
* Indicates a required field